Load Simulation for Test Benches
When designing a test bench, EMP brakes made by Merobel provide an excellent solution, because of their ability to generate a torque load that is very accurate, very smooth and very easy to control throughout the full range of the brake. All of these benefits come at a very reasonable price.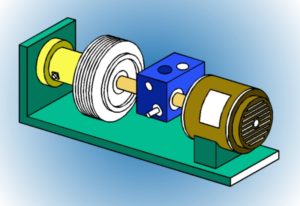 When designing a test bench the Merobel EMP Brake provides and excellent solution capable of simulating a very accurate variable load on the motor shaft. With reproducible and accurate torque, fast response time, easy control and low power consumption Merobel particle brakes offer the best solution for accurate torque control test rig solutions.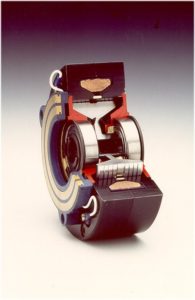 Magnetic Particle Technology Principle
The magnetic particles in the Electromagnetic Particle Brake reacts to the variation of a magnetic field generated by an electromagnetic coil. Varying the powder's viscosity leads to the control of the torque transmission between the primary and secondary rotors. When the secondary rotor is fixed to the equipment frame the device is acting as a brake.
Merobel Particle Brakes offer a compact design providing a large amount of torque relative to a small overall design. Little or no maintenance and very fast response times (10 to 50ms). In conjunction with measurement and modern digital closed loop PID control systems Electromagnetic Particle Brakes can be to core element of test benches.