Andantex is a main supplier for the Thomson Linear motion range of products including their Linear Actuators range, Precision Ball Screws, Screw Jacks and Round Rail / Profile Rail Linear Bearing systems. Thomson invented anti-friction linear technology over 70 years ago and has continued to lead the industry ever since. The Thomson brand is recognised as the global leader in motion technology.
Thomson Linear actuators are one of the broadest ranges of linear actuators on the market today and we can offer a suitable model to almost any imaginable application. Thomson are also very experienced in designing custom linear actuator solutions and build more custom linear actuators than anyone else on the market.
Electrak Series
Linear Actuators built for mobile and industrial applications
Rugged, reliable and strong. With the highest IP ratings loading and temperature ratings available
Large range of models, all easy to customise
New HD Series
Linear actuator with flexible on board electrical controls including CANBUS communication
Superior Performance in IP rating, Loading and Stroke Lengths
Unmatched environmental protection
Throttle Series
Specially designed for throttle applications
Multiple control, feedback and environmental options including CANBUS communication
Max Jac Series
Toughest actuator on the market
IP69K protection ensures operation virtually anywhere
Thomson invented the ball bushing bearing over 70 years ago and has since been the recognised leader in this field.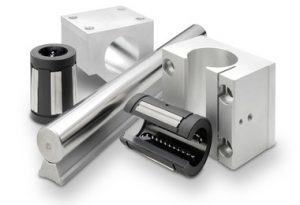 RoundRail Linear Ball Bushing Bearings
Most extensive range in the industry
Pre-assembled, ready to install providing low friction, smooth accurate linear motion
Cutting edge segmented technology
Thomson has a complete offering of Rails and carriages in a broad range of styles and sizes and we are a "one-stop shop" for all your profile rail needs.
Profile Rail 400 Series
Double faced ball track bearing for simple installation
Up to 30% less noise compared to standard ball cages
Profile Rail 500 Series
Exceptional straightness and high rigidity
High Dynamic, static and moment capacities
MicroGuide Series
Miniature guidance system in stainless steel
Industry standard drop in replacement